Walk 4 Hearing 2018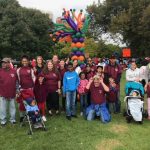 The Lincoln community came together to support the Deaf and Hard of Hearing Team on Sunday, September 30, 2018 at Chicago's Walk4Hearing. We are proud to announce that our team was able to raise $2,000 for the Hearing Loss Association of America! To view more pictures from the event, visit our Facebook page at @LincolnSD89.
Did you know that one in ten people has a hearing loss? Chances are you know a few people with some degree of hearing loss. Untreated hearing loss affects overall health in negative ways – falls, isolation, anxiety, depression, and now, a link between untreated hearing loss and cognitive decline. Many people age into their hearing loss while they are still in the workforce.
Hearing loss can be prevented, screened for, and treated. The HLAA Walk4Hearing brings people together in communities to create awareness about hearing loss.